SCOUT ANPR.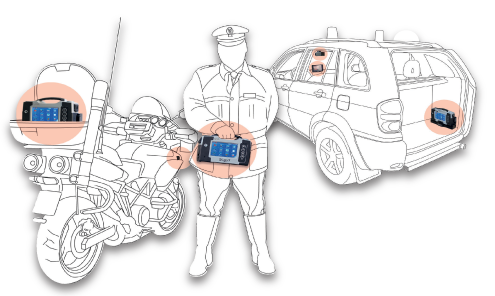 Scout is a purpose-designed Mulitfunction Vehicle PC which, in a single compact device, offers portability and functional flexibility so vital to the officers in the patrol car. Scout fits perfectly with all internal vehicle layouts and meets all the demands of officers when on patrol, including operations away from the vehicle, thanks to its extreme portability.
Officers can simply point the devices camera at a vehicle number plate, take a snapshot and await the ANPR result to be returned back to the device.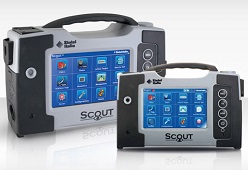 SCOUT is a portable multi-function vehicle PC, which manages up to 4 video cameras for the recording and transmission of data and which can be installed in any kind of vehicle (cars, vans, motorbikes, mobile offices) via a simple docking station. SCOUTs distinctive modular set-up means that every vehicle in the fleet can be easily and economically equipped with a docking station, while the SCOUT unit itself can be rapidly transferred to the vehicle going out on duty, or even between vehicles in the field.
Functions of Scout
Video Recording

The content acquired is indexed for subsequent multimedia search/analysis.Recorded video can be downloaded via Wi-Fi on return to Headquarters.

Records from 8 up to 64 hours of video, (at a resolution of 640x480 and at 25 fps) on a removable Compact Flash card (up to 32GB).
Connects up to 4 video sources (1 or 2 embedded micro-cameras).
Video recordings can be Bookmarked.
Video and data can be encrypted and digitally signed.




Navigation

In-vehicle GPS navigation:

EU country maps (Tele Atlas).
Friend car localization.
Destinations can be sent from the Headquarters to the Patrol cars in the field.
Police Point of Interest (POI).






ANPR

SCOUT can integrate an ANPR application which recognizes number plates and compares them instantly with the main database (constantly synchronised and updated, via modem, with the Headquarters server).
IR cameras can be connected for recognizing number plates at speeds of up to 125 mph (200 km/h).




Sanctioning and Fining

SCOUT is an essential support tool for the sanctioning of every kind of trafficviolation via its:

Easy acquisition of video, audio and snapshot pictures of violations (traffic light jumping, illegal parking, bus lane use, manoeuvres, etc.)overlaid with:
- Date/Time stamp - GPS coordinates - Officer/Patrol ID
Bluetooth connection to a wireless keyboard and printer enables in-vehicle editing and printing of the finished report.




GPS Localization

SCOUT has an integrated GPS module which allows:

Localization on a map of all SCOUTs operating in the territory.
Referencing of all the images/videos with geographic coordinates.
Contextualization on a cartographic map of all video recorded or transmitted.






Video Transmission

SCOUT includes a powerful compression codec, fast transmission software and an HSDPA/UMTS/EDGE modem.

It can transmit and receive videos:

To/from the Headquarters.
To/from other vehicles equipped with SCOUT.




Fingerprint Recognition

SCOUT's integrated Fingerprint reader (optional) enables officers to:

Scan a fingerprint and compare it with the internal AFIS standard Database.
See photos and data of the recognized person present on the Database.
Upload, in real-time, newly-acquired fingerprints and photos to the Database.
Login to SCOUT using their own fingerprint.




Tetra and Voip Communication

SCOUT's Virtual Console helps us achieve our goal of in-vehicle space rationalization.

SCOUT's touch screen enables the control of an in-vehicle TETRA radio and of a VOIP phone without the need for the usual console.
Complete management of incoming/outgoing calls, text messages, radio settings.
SCOUT has an integrated VOIP phone which allows to make calls not only to other SCOUT but also to another telephone subscriber.